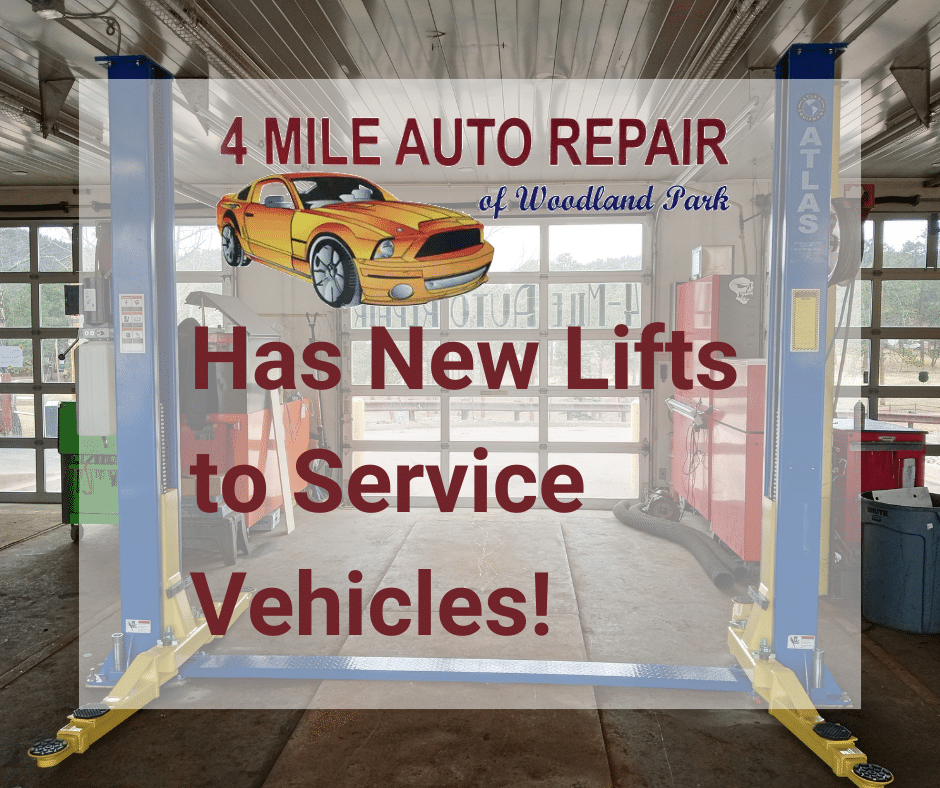 When it comes to vehicle maintenance, finding an auto shop that prioritizes quality, efficiency, and customer satisfaction is paramount. Residents of Woodland Park, Colorado, now have a reason to rejoice as 4 Mile Auto Shop has recently installed a state-of-the-art lift, enhancing their commitment to providing exceptional auto maintenance services. In this blog post, we will explore the benefits of this new lift and how it elevates your vehicle maintenance experience.
1. Improved Efficiency and Precision:
With the installation of the new lift, 4 Mile Auto Shop has embraced cutting-edge technology that streamlines their operations, ultimately benefiting their customers. The lift enables their skilled technicians to work on vehicles with increased efficiency and precision, ensuring that every aspect of auto maintenance is carried out flawlessly.
Whether it's routine inspections, oil changes, tire rotations, or more complex repairs, the new lift empowers the technicians at 4 Mile Auto Shop to complete tasks efficiently, saving valuable time for both the customer and the service team. This dedication to efficiency allows for a smoother experience, reducing wait times and enhancing customer satisfaction.
2. Enhanced Safety Measures:
Safety is a top priority at 4 Mile Auto Shop, and the new lift aligns perfectly with their commitment to providing a secure environment for customers and technicians alike. The lift is designed with advanced safety features, including sturdy construction, anti-slip surfaces, and secure locking mechanisms, ensuring that vehicles are elevated with utmost stability and security during maintenance procedures.
By investing in cutting-edge equipment, 4 Mile Auto Shop demonstrates their commitment to staying ahead of industry standards and maintaining a safe and secure environment for all vehicle owners in Woodland Park.
3. Versatility and Accessibility:
The new lift at 4 Mile Auto Shop is designed to accommodate a wide range of vehicles, from sedans and SUVs to trucks and vans. This versatility ensures that no matter the size or type of your vehicle, the technicians can efficiently perform maintenance tasks without any hassle. With enhanced accessibility, they can thoroughly inspect and service various components, such as the engine, exhaust system, brakes, and suspension, to keep your vehicle running smoothly.
Additionally, the lift's user-friendly design facilitates swift and efficient vehicle positioning, reducing the time required for maintenance procedures. This focus on convenience translates into a more satisfying experience for customers, making 4 Mile Auto Shop the go-to destination for all their vehicle maintenance needs.
With the installation of their new lift, 4 Mile Auto Shop has reaffirmed their commitment to excellence in vehicle maintenance services. By embracing cutting-edge technology, they provide enhanced efficiency, precision, safety, and accessibility, ensuring a top-notch experience for their valued customers.
Whether you need routine maintenance or complex repairs, the skilled technicians at 4 Mile Auto Shop are equipped with the latest tools and expertise to get the job done right. Visit their Woodland Park location today and discover the elevated vehicle maintenance experience they offer.